The HomeTown Internet Story
Cue the birds singing…big trees…quiet neighborhood
fresh air…surrounded by friends and family.
Just because you prefer to have a little more space, and slightly slower pace – shouldn't mean you have to
compromise on your internet service. You have the same needs – virtual meetings when working
remotely from home, streaming the latest movies and videos, gaming and more.
But sadly, your current connection simply cannot cut it. You ask yourself, "is this the
price I pay for choosing to live in a rural area?"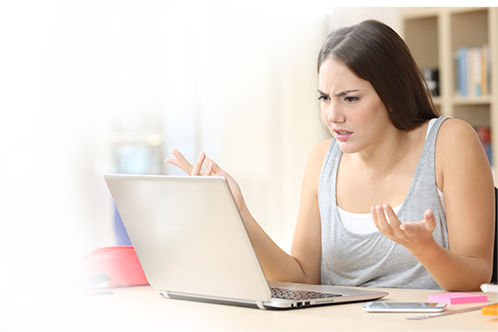 We are Hometown Internet. We know how
  frustrating a slow or stalled connection can
    be. We also understand, appreciate, and
    respect the value of living in a smaller
    community (in fact, there is a good
    chance that many of our team members
    live in your neighborhood). That is why we
    started our own internet connectivity business, partnering with world
    class network providers, that caters solely to small towns and rural areas.
        Frankly it is a part of the business the big guys simply aren't interested in.
        But rural business is the core of our business and it's all that we do.
    Our sole purpose is to provide a better internet solution to our
    friends, family, and neighbors like you. We deliver faster speeds,
    reliable connections, consistent streams, state of the art technology,
    and "hometown" friendly service. All at a price you can afford.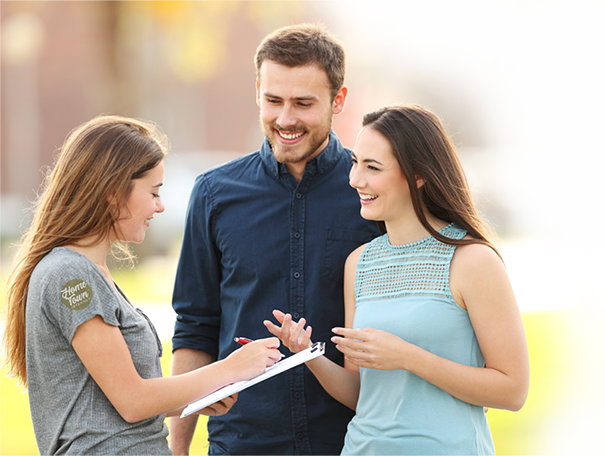 HomeTown Internet
Service Plans

HomeTown Internet provides a broad range
of residential and business services
designed to meet the needs of everyone.
…………………………………………………………………..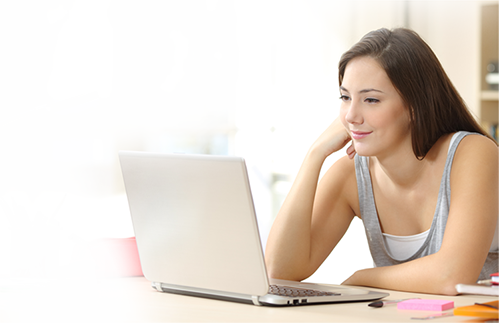 What We Offer
‐
Our Service Plans Include:
‐ Speeds from
25 Mbps
to
500 Mbps
(Download)
‐ Guaranteed Speed or it's Free!*
‐ Unlimited Data Usage
‐ Video Streaming up to HD Quality
‐ Optimized for up to 1080p
‐ Built-In WiFi
‐ Price Lock for the Duration of Your Agreement
‐ Upgrade Your Plan at Any Time
‐ Plans Include the following Equipment – Antenna,
Tripod, Pole, Cabling + Professional Installation
‐ Low Cost Initial Installation Fee
* See Agreement for Details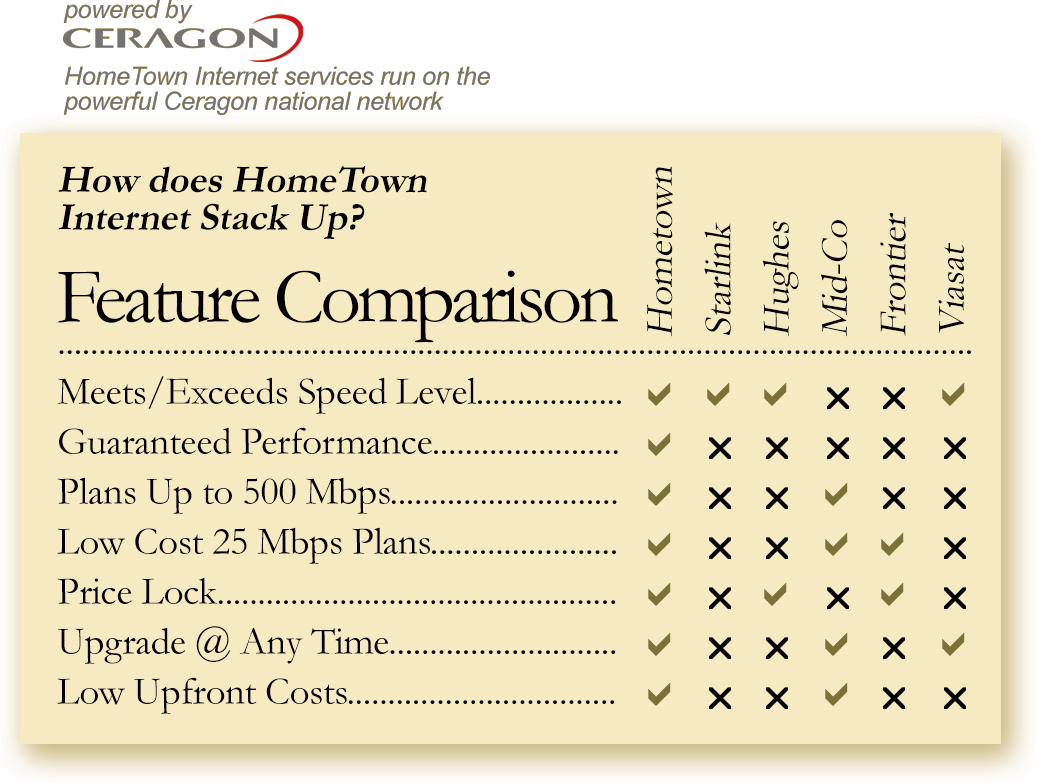 How Much Bandwidth do You Need?
Use our calculator and consider the following when selecting your plan.
……………………………………………………………………………………………………………..
| | |
| --- | --- |
| Activity |   Minimum Download Speed |
| Streaming SD Music | <0.5Mbps |
| Browsing Email/Social Media |   1 Mbps |
| Streaming SD Video |   3-4 Mbps |
| Streaming HD Video |   5-8 Mbps |
| Syreaming 4K Video |   15-25 Mbps |
| Online Multi-Player Games |   4 Mbps |
| Video Calls |   6 Mbps |
File Size
Time to
25Mbps
Download @
 100Mbps
4 Minute Song
4 MB
1.2 sec.
 0.3 sec.
5 Minute Video
30 MB
11 sec.
 2.5 sec.
9 Hour Audiobook
110 MB
35 sec.
 9.2 sec.
45 Minute HDTV Show
600 MB
3.7 min.
 50 sec.
Number of Devices
| | | | | |
| --- | --- | --- | --- | --- |
| Type of Usage | 1-3 | 4-8 | 8-10 | 10+ |
| Light Usage | 10 Mbps | 15 Mbps | 25 Mbps | 50 Mbps |
| Moderate Usage | 15 Mbps | 25 Mbps | 50 Mbps | 100 Mbps |
| Heavy Usage | 25 Mbps | 50 Mbps | 100 Mbps | 150 Mbps |
| Very Heavy Usage | 50 Mbps | 100 Mbps | 150 Mbps | 200 Mbps |
What are Your Neighbors
Saying About HTI?
Customer Testimonials + Reviews

"The driveway to my rural lake home is about
50 yard long and bends through the woods.
I asked Mid-Co to run their service to my
home and offered to pay for the entire cost
of the installation. They declined, because
they did not want to service my account
after the initial installation was completed.
I felt like I had no where to turn until
HomeTown Internet came to town..
no lines to run...no tearing up my driveway
or lawn...and I now get super fast
"HomeTown service" at 125 mbps
instead of the 8 to 10 mbps I had before.
Thank you HomeTown Internet!!"
Joe C.
"The current telnet provider had run their
fiber connections to most of my neighbors
in the neighborhood. I thought that would
make connecting for me that mush easier
and less expensive. Boy, was I wrong. To
run their connection to my home, they
wanted $10,000. Mind boggling and
outrageously expensive. HomeTown
Internet charges just a $99.00 installation
fee and had a plan perfect for my needs
at under a $100.00 per month. Now I
get world class Internet, with HomeTown
service and affordable pricing."
Mary M.